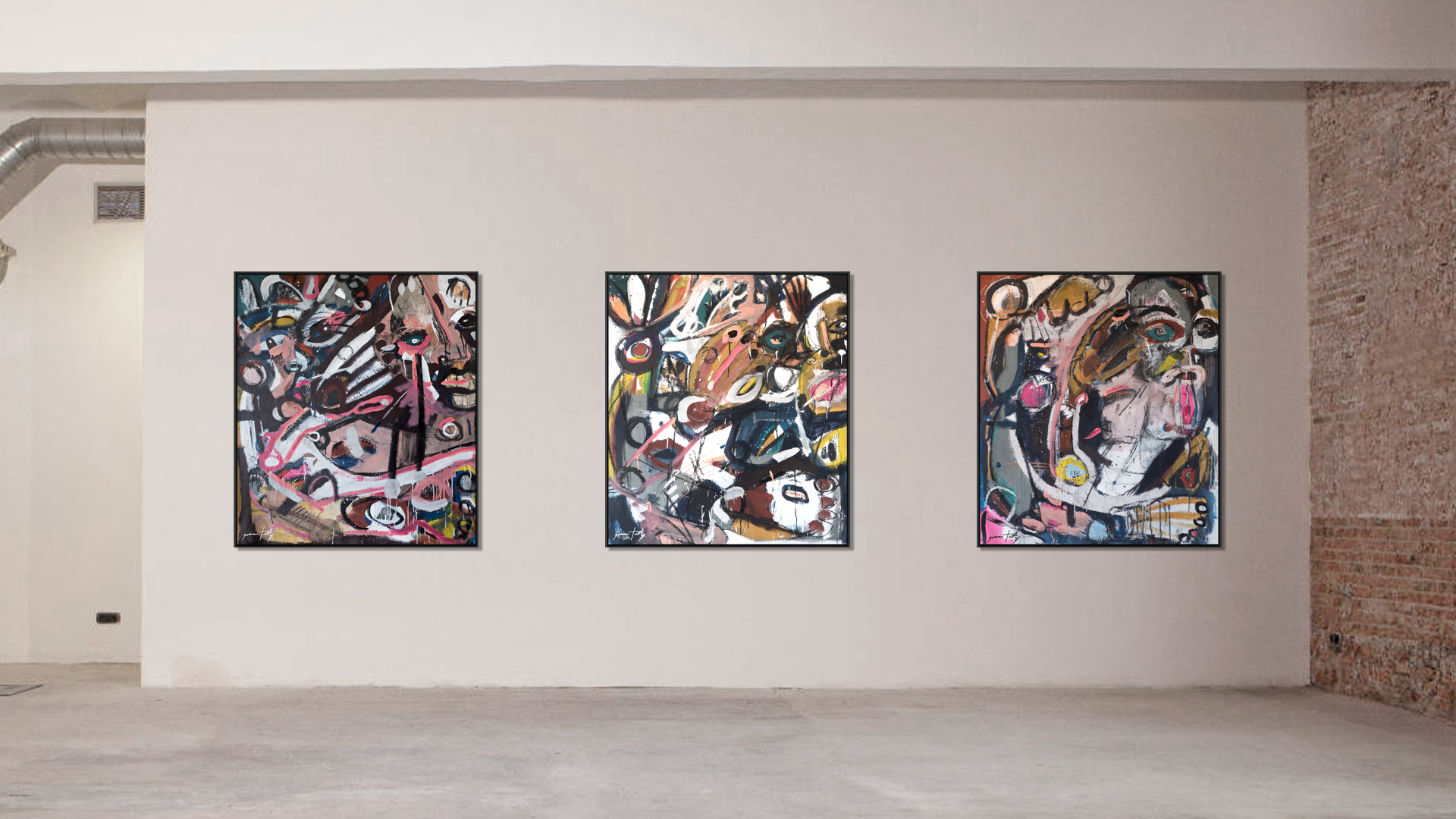 "Three Amigos" –Explained by the Artist
"Three Amigos" are three interchangeable paintings that project an intense release of communal emotion, where energetic brushwork and bold usage of color were applied to evoke a powerful delivery of abstract form & figure.
The brief was to create three pieces for three friends that each could be interchanged with one another and adapted to their varying spaces. The brief also requested, in the representation of my choosing, to incorporate specific elements that spoke to each individual friend. Music for Dan, dance for Al & energy for Aj. I thought the best way to represent these elements while staying true to my style of painting was to create a marriage of the components and deliver them simultaneously in each piece, across one large canvas, in an effort to create a cohesive delivery of the abstract subject matter throughout the works. Because these elements coexist naturally as differing forms of energy, the incorporation into the works was fluid & instinctive. Energetic brushstrokes, emotional color usage and abstract form were combined to communicate an interconnected range of works that each convey the transcendent components. Consistency of the color system, including the requested black & whites, deep purples & greys, & pops of bright color were applied in different layers across the pieces adding to the depth and texture.
Subsequent to the foundation of abstract brush strokes, deduction and form were brought in to create an abstruse, contorted figure. This speculative figure mirrored in each piece is representative of the movement of dance, combined with wild strokes to convey the spirit of music and translated through an all encompassing expressive energy.
Beyond the integrated content of the pieces, an intentional sentiment is woven throughout. While getting to know the friends and speaking to them, I realized a common thread of sentiment that each was experiencing. There was a notion of containment, where each of them were being placed, in varying manners, within a pre-conceived box of social standards and conceptions. Instead of being solely recognized in their professional & corporate arenas, each wanted to highlight a counterbalance of themselves. Each wanted to exude their forms of expressions and emotions to showcase another, less structured version of their inherent beings. These works subconsciously boast the free, native, unrefined aspects of the three friends, silently highlighting their impassioned expressions.
-Grason Ratowsky
Medium
Acrylic, Charcoal, Clay, Oil Stick on Canvas
Size
3.5'W x 4'W